About us
Do you love eating Thai food? Enjoy authentic and delicious Thai specialties at Daisy Thai! We are located at 40 Chatswood Road, Springwood QLD, and we also offer pickup and delivery services for the convenience of our customers. Our menu includes Meal Deals, Appetizers, Traditional Thai Soups, Salads, Authentic Thai Curries, Stir Fried Thai Style, Rice and Noodles, Whole Fish, Chef's Specials and Thai Desserts. Sample our BBQ Chicken, Prawn Crispy Basil, Soft Shell Crab Curry Stir Fried, King Prawns Tamarind Sauce, Deep Fried Battered Fish Fillet and Kana Moo Grob. To view our complete menu, click on the Order Online button now!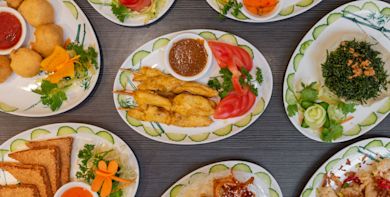 Reviews
Phoebe
"We order from Daisy Thai often and they food is always amazing."
24/02/2020
Rochelle
"Food is so beautiful beautiful beautiful"
19/02/2020